Introduction
Up to now, among the various herbs available, A. vera is the most popular and is receiving a lot of scientific attention [1]. In general, Aloe belongs to Asphodelaceae (Liliaceae) family, and is a semitropical, shrubby, or arborescent, perennial, xerophytic, succulent, pea-green color plant [2]. It is known that there are over 400 species in the genus Aloe [3]. However, among them, A. vera, Aloe ferox, and Aloe arborescens are traded worldwide [3]. Aloe barbadensis Miller is commonly referred to as A. vera [2,3]. Especially, the Aloe plant is very sensitive to temperature, so it is now grown on a large scale in warm tropical regions [1,3]. The main characteristic of A. vera plants is that the solid material is about 0.5%–1.0%, but the water content is about 99–99.5% [3].
As is known so far, it has been found that the biological benefits associated with A. vera are due to the polysaccharides contained in the leaf's gel [1,3,4]. Currently, gel, also called transparent pulp, is widely used in cosmetic, medical, and food fields [4,5]. Especially, since A. vera has various medicinal properties, many studies are being conducted centered on A. vera [1,3-5]. The various biological and pharmacological functions of A. vera gel are summarized in Fig. 1.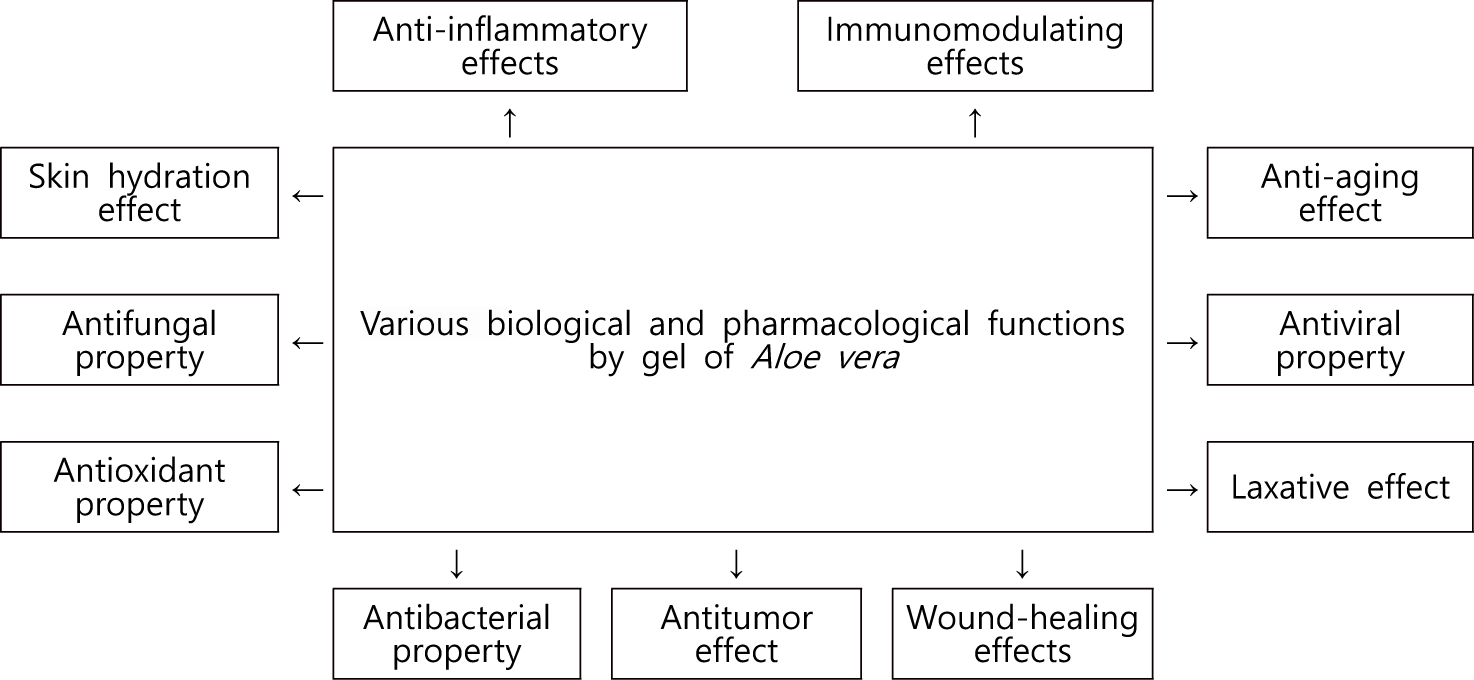 Download Original Figure
Furthermore, it has been reported that more than 75 potentially active compounds such as enzymes, fat- and water-soluble vitamins, minerals, organic acids, simple/complex polysaccharides, phenolic compounds are contained in the solid material of A. vera [3,6]. But, during processing and storage, the physical stability mechanisms and rheological behavior of suspensions are greatly affected. This phenomenon occurs because both aloe gel and pulp contained large amounts of insoluble polymer particles. [7]. Therefore, continuous research is needed to solve these problems mentioned above. Then it can be used more actively in the food industry.
Next, A. vera is also known as a useful secondary metabolite [8,9]. The main secondary metabolites are anthraquinones and tricyclic aromatic quinines, which are abundantly present [3]. Aloe emodin and chrysophanol are the main components of natural anthraquinone derivatives [10]. It is known that the tricyclic aromatic quinine of Aloe is synthesized through the type III polyketide biosynthetic pathway [3]. In other words, aloesin, aloin and aloe-emodin (oxidation products of aloin) are the most important secondary metabolites found in gel of A. vera [3]. In addition, it is reported that the physiological activity of many secondary metabolites of plants has strong anti-inflammatory, antioxidant activity, lipid-lowering, and so on [11-13]. It has even been approved by the US Food and Drug Administration (FDA) for development research in the treatment of cancer and AIDS using A. vera [3].
Therefore, the method of fortifying aloe oil containing various functional substances directly to nondairy or dairy products is recommended. In this way, the functional substances of aloe oil in food can be further activated, which can enhance human health benefits and upgrade the sensory quality. However, studies on the estimation of sensory quality after direct application of aloe oil to various nondairy or dairy products are lacking.
Subsequently, the purpose of this study is to estimate the sensory quality by fortifying aloe oil of diverse concentrations to soy milk, cow milk, yoghurt, and Kefir, respectively.