Introduction
Recently, research using bee products in traditional medicine and modern medicine has been progressing rapidly [1]. The main purpose of the various studies is not only to investigate the utility that continuously benefits health, but also to focus on the pharmacological properties of bee products [1,2]. These results lead to the development of various nutritional supplements and functional foods [1,3]. In recent years, the concept of functional food has expanded to define food as more capable of improving physiological or psychological health compared to conventional remedial and nutritional foods [4]. Hence, these effects contribute greatly to maintaining good health, well-being and reducing chronic diseases [2,5,6].
In general, propolis, honey and royal jelly are widely known as bee products that promote human health [1–7]. Among them, propolis is generally known as 'bee glue'. Propolis is a natural ingredient collected by Apis mellifera (belongs to Apidae family, genus Apis) from various plant sources [6,7]. The word "propolis" is derived from Greek "pro" and "polis" and means a substance that is for or in defense of the beehive [1,3]. The function of propolis was used for smoothing the inner surface of the beehive, for retaining the beehive's internal temperature about 35°C, for preventing weathering, and for invasion by predators [1,3–5,7]. Simultaneously, propolis could harden the cell wall and contribute to an aseptic internal environment [1,5,6]. Propolis also possesses a pleasant smell, and becomes soft and sticky upon heating [1,7]. As far as it has been known, due to its antiseptic, antiinflammatory, antioxidant, antibacterial, antimycotic, antifungal, antiulcer, anticancer, and immunomodulatory properties, antidiabetic, antiprotozoan, antitumoral, dental action, and so on, propolis and its extracts have numerous applications in treating various diseases [1–8] (Fig. 1). Propolis is nontoxic, and the safe concentration for humans would be approximately 1.4 mg/kg and day or 70 mg/day [9].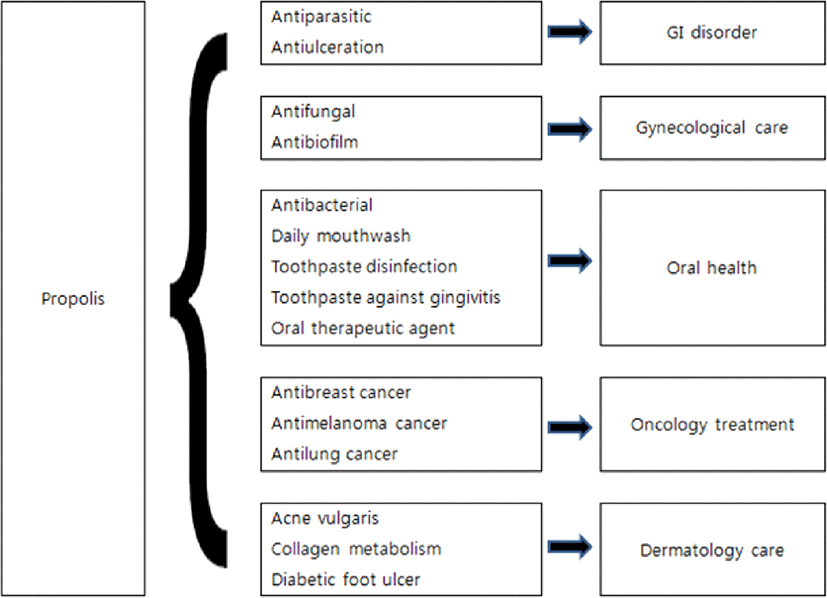 Download Original Figure
Propolis is composed mainly of resin (50%), wax (30%), essential oil (10%), pollen (5%), and other organic compounds (5%), and is the 3rd most important component of bee products [1,5]. The important organic compounds present in propolis are phenolic compounds (2 phenolic acids such as caffeic acid and cinnamic acid), esters, flavonoids (12 different flavonoids such as pinocembrin, acacetin, chrysin, rutin, luteolin, kaempherol, a1pigenin, myricetin, catechin, naringenin, galangin, and quercetin), terpenes, betasteroids, aromatic aldehydes, alcohols, and so on [1,4]. Also, propolis contains important vitamins (vitamin B1, B12, B6, C, and E) and useful minerals (magnesium, calcium, potassium, sodium, copper, zinc, manganese, and iron), and has a few enzymes (succinic dehydrogenase, glucose-6-phosphatase, adenosine triphosphatase, and acid phosphatase) [1,3–9].
Therefore, owing to propolis has many different advantages, propolis could be supplemented directly to several dairy products because it could improve the organoleptic testing and upgrade the health benefits of the human. Consequently, the purpose of this study is to obtain basic data for commercialization by investigating organoleptic testing by adding propolis of various concentrations to various dairy products such as market milk, yoghurt and Kefir.